Malta should be on the top of your list of destination wedding locations!
Planning a wedding can be a stressful feat. That said, planning a destination wedding – with a generous dose of sunshine and the right people to organise your celebration – can ward off the stress, leaving you free to enjoy the run-up to the big day! There's no need to fret – AX Events lead the way in bespoke outside catering services, and can help you choose your dream venue for your destination wedding! So, leave your worries at home, hop on a plane and get ready to embark on a new chapter with your loved one.
All that's left, then, will be for you to say 'I do'!
Malta is the ideal place for a destination wedding
There are so many things to take into consideration when planning a wedding. At first, the thought of preparing for your big day in a foreign country can be intimidating. Luckily, English is one of the two national languages in Malta, so communication barriers are non–existent. There's no need to fear any crazy exchange rates, either, as the Maltese Islands form part of the Eurozone, so the Euro is the only currency used here. Moreover, the legal processes involved in planning a Church wedding, civil marriage or civil partnership is straightforward, so you won't be drowning in paperwork before the ceremony.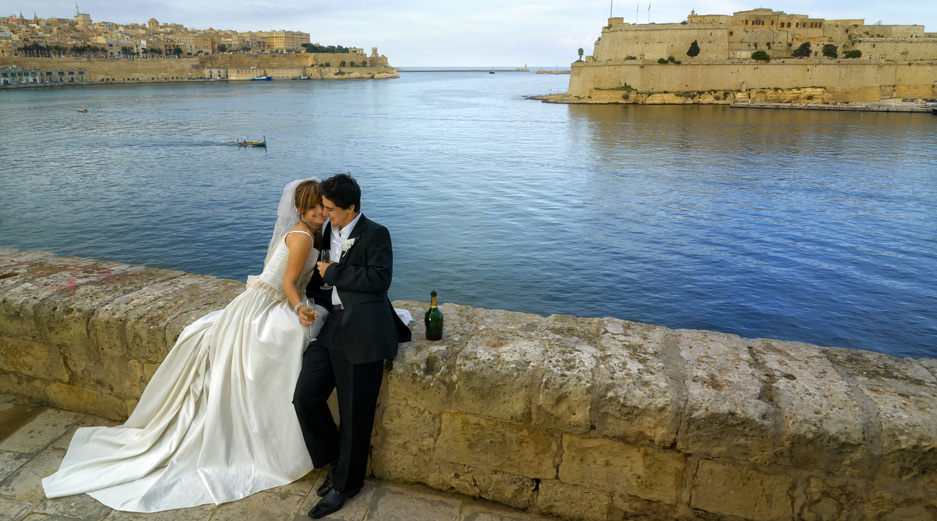 Your Sunny Destination Wedding
Since a foreign wedding also doubles as a relaxing vacation – good weather is paramount when choosing where to go for your destination wedding in Europe. Many couples coming from typically colder climates have been opting to have their destination wedding in Malta due to the 300 days of sunshine that the sunny little island boasts.
Choosing Malta for your destination wedding in Europe can give you a dream island getaway without breaking the bank. Since Malta is located right in the Middle of the Mediterranean Sea, the island is no more than a few hours' flight away from countries in mainland Europe!
The Best Wedding Venues in Malta
Naturally, good weather means that you can take your pick from a wide choice of distinctive outdoor wedding venues in Malta, or enjoy a cosy, indoor celebration at one of our exclusive locations. Whether you opt for a civil marriage ceremony or a church wedding reception, you can get access to exclusive wedding venues in Malta or plan an unforgettable do in one of Malta's most picturesque outdoor locations with AX Events Fancy a wedding inside the 200-year-old Palazzo Capua, or a chic event at the Royal Hall, TemptAsian Rooftop Restaurant or Lounge 360 and Pool Deck, located at the 5-star AX The Palace in Sliema? Or, perhaps an outdoor foreign wedding at a historical fortress is more your cup of tea? Whatever you have in mind, AX Events can make your dream wedding come true.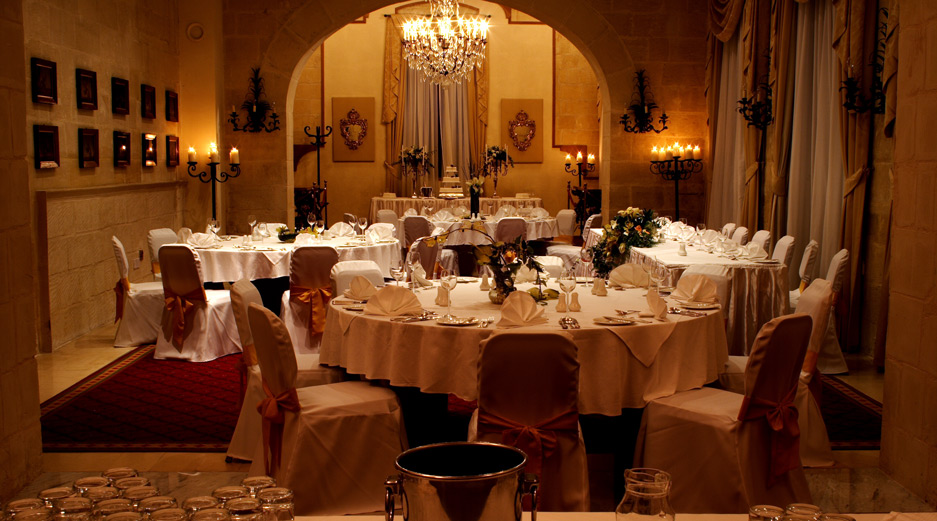 Finding the Right Caterers for your Destination Wedding
If you want to make sure that your wedding really stands out, finding the right caterers for the event is crucial. Have you found your perfect wedding venue, only to realise later that they don't offer exclusive catering? From small celebrations to extravagant ones, morning, afternoon or evening receptions – AX Caterers, which forms part of AX Events, will convert your dreams into a reality. Moreover, AX Events can apply their expertise to host and cater for civil ceremonies, too.
As one of the leading wedding outside caterers in Malta, AX Caterers can create a bespoke menu tailored to your preferences. Whether you long for an intimate family gathering or a full-blown wedding reception, AX Events will give you and your guests that extra special treatment with divine food and exceptional service. Specialising in outside catering, AX Caterers add a dash of class, dedication and elegance to an event. Since this is your special day, the team at AX Events will work hand-in-hand with you to curate a spectacular culinary experience to complement the celebrations.
Benefit from a Complete Wedding Package
Choosing AX Events means that you can get the whole package. Not only will you be mesmerised by our venues and satisfied by our outside catering services, you can also choose to spend your wedding night or honeymoon at any of the AX Hotels. From 7 different hotels spread across the sunny island of Malta, you have the luxury to choose a hotel according to your taste. Whether you're looking to spend the night at a 5-star luxury hotel or a beach hotel in the northern part of the island, it's entirely up to you. AX Hotels will provide the ideal destination wedding accommodation for you and your loved ones.
Does a destination wedding in Malta sound like a dream to you? Get in touch with AX Events and start planning your special day!