Our Story
At AX Group, we gained our expertise in the hospitality, construction, development and healthcare industries. Today, we're known for our unique hotels, our sophisticated service and our impeccable innovation in everything that we touch.
We have now launched AX Events, a high-end outside caterers company that is ready to work with you to feed your dreams in your upcoming celebrations and events. Whether it's a wedding, a birthday celebration, a small festivity or a business event, we can do it all.
All thanks to our dedicated and creative team with several years of experience in the industry offering a bespoke service, we are ready and capable to do it all. With the introduction of this service, we're proud to offer a variety of AX Exclusive Venues and various outside catering venues, fit for any occasion – all catered by our superior outside catering service of AX Caterers.
Our attention to detail and our service is delivered with integrity, determination, creativity, innovation and personal touch and it is what will make us your perfect match. Place your trust in us – we're ready to feed your dreams.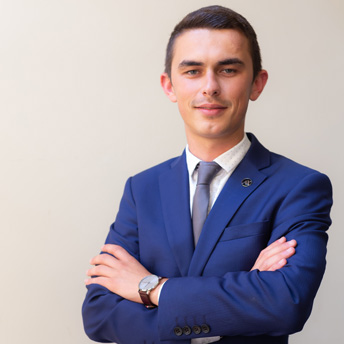 Neil Cauchi
Events Manager
Neil Cauchi is currently occupying the role of Events Manager within AX Events. Having previous experience working in the events department at AX The Palace and AX The Victoria Hotel in Sliema and holding a Bachelor's Degree in Tourism and Hospitality at the University of Malta, it is clear that he has a passion for the tourism industry and loves to interact with people and work within a team. His number-one stress reliever is sports, especially football. Neil's love for the game helps him to maintain a healthy lifestyle.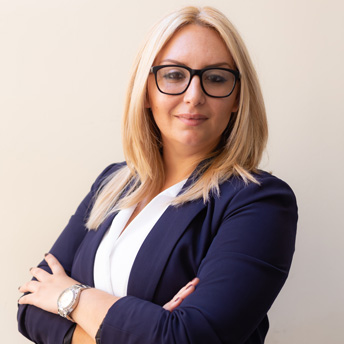 Camille Brincat
Operations Manager
After successfully reading for a degree in Bachelor of Arts with Honours in Tourism Studies at the University of Malta, Camille decided to pursue her dream of working within the hospitality industry with AX Group in 2010 as an Events Coordinator. From the age of 22, she has worked her way up to become the Manager of the Events Department at the Group's Sliema Hotels namely AX The Palace, AX The Victoria Hotel and AX Palazzo Capua. She is now the Operations Manager at AX Events and AX Caterers. Camille has been responsible for various large events within her time working within the hotels and is a firm believer that the success of an event lies in the attention to detail. When not organising events, Camille is passionate about food and drink and travelling.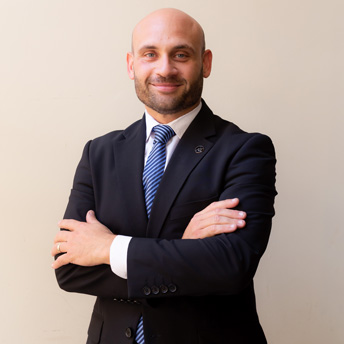 Mark Zammit
F&B Service Manager
Mark Zammit began his career in the Hospitality industry in 1998. After graduating in Food and Beverage Service at the Institute of Tourism Studies in Malta and underwent years of experience in various hotels, Mark joined AX The Palace pre-opening in 2007 as an F&B Supervisor. In 2016, Mark progressed as an F&B Executive for AX The Palace, and soon after, as the F&B Service Manager for AX The Palace and AX The Victoria Hotel. Now, he is also the F&B Service Manager at AX Events and AX Caterers. His favourite part about working in the hospitality industry is that he has the opportunity to develop his team to strive for excellence in service and to always be the best that they can be.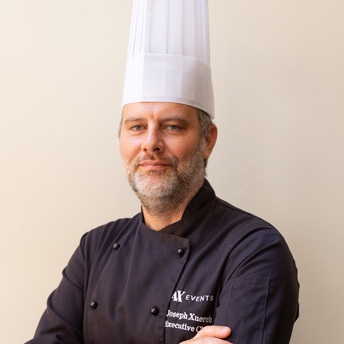 Joseph Xuereb
Executive Chef
Joseph Xuereb has been leading the kitchen brigade of AX The Palace since it first opened its doors in 2007. He played a big role in creating TemptAsian, the hotel's 5-star Asian fusion restaurant. He claims his mentor played a big part in his career and love for creating new dishes with different tastes, aromas and spices. He is now also the Executive Chef of AX Caterers. Joseph considers his team as his biggest achievement in his career. He is continuously proud of the success and reputation that they have created together.
James Galea
Assistant General Manager
James Galea graduated in Hotel Management at the Institute of Tourism Studies in Malta and he took his placement at the Hilton Hotel in Leicester. He built his portfolio by working in a number of establishments, including a 4 star resort and a leading casino in Malta. In 2011, he joined AX Hotels as a Food and Beverage Manager of AX The Palace and AX The Victoria Hotel. He moved on to become the Operations Manager of both hotels and most recently to Assistant General Manager. He now also occupies the same role at AX Events and AX Caterers.